Peter O'Brien's follow-up to 2009's '
Junked Cars & Beat Up Guitars
' - his critically acclaimed debut album, is '
Small Talk, Bullshit & Lies
' - a 71 minute tour-de-force which ranges across the musical landscape from
Dan Dugmore
's steel guitar drenched opener, '
Chrome Eagle Bus
,' to
Thad Beckman
's gritty Stratocaster slide on the penultimate track, '
Roadwork in the Boneyard
.'
This time around Peter, and 12 string Rickenbacker wielding producer,
Tony Poole
, have utilized musically talented friends, old and new, to provide a rich and varied accompaniment to the songs. Prominent among the old is fellow Englishman,
Wes McGhee
, himself a renowned songwriter and guitarist;
John Stewart Band
alumni members,
Dave Batti
and
John Hoke
; and Texan Flatlander,
Butch Hancock
. His 14 year old son,
Rory
, is one of the new, making his recording debut with lead vocals on his father's 'Moanin' of the Midnight Train,' with sister,
Katy Fachorn
, adding harmony vocals.
Continuing the Texas connection is Dallas native,
Andrew Combs,
whose duet vocal on
Tony Lane
's 'The Light At the End of the Line' enhances his burgeoning reputation as one of the most gifted young singer/songwriters plying his trade in Nashville.
Joining him on this song are lead guitarist,
Jeremy Fetzer
and Essex born, English steel player,
Spencer Cullum, Jr
. from
Caitlin Rose
's current backing band.
While playing in Whitefish, Montana, last year Peter met mandolin player,
Ed Boggs
, who he enlisted to add distinctive color to several tracks.
As for the songs, the heartbeat of this album, fans of literate, inteligent storytelling will not be disappointed.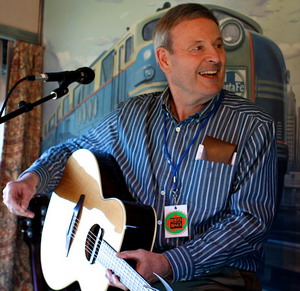 Photo by Deena Wolfe-Guerin
Between 1973 and 1988 Peter published the respected music magazine, "
Omaha Rainbow
." Throughout this time he got to know and interview many of the artists who informed his subsequent approach to the art of songwriting.
Tom Russell
spoke of the last album as being, "Honest in an age of dishonesty and fear," while Canada's iconic
Ian Tyson
praised, "The whole progression from sixties folk to Buckaroo Elko in the fading West - of 2000 on."
Three years later Peter is ready to take his listeners on another musical journey. You're invited to join him. No passport required.