Peter O'Brien, Tony Poole, Harry Arthur, Thad Beckman & Wes McGhee recorded at Milestone Studios, Oxfordshire
Dave Batti at Homecoming Studios, West Hills, California
Ed Boggs at Jazz Barn Studios, Kalispell, Montana. Engineer: Don Caverley
Andrew Combs, Spencer Cullum Jr. & Jeremy Fetzer at Grey Matters Studio, Nashville, Tennessee.
Engineer: Mike Odmark
Dan Dugmore at Shabby Road Studio, Pleasant View, Tennessee
Butch Hancock, Rory Hancock & Katy Fachorn at Rainlight Recorders, Driftwood, Texas
John Hoke at Dreamland Studios, Los Angeles, California
All songs ©2012 Copyright Control except 'The Light at the End of the Line' © Bug Music 'Moanin' of the Midnight Train' © Two Roads Music/BMI administered by Bug Music and 'Roadwork in the Boneyard' © Copyright Control/Bucking Horse Moon Music
Cover photo of blue 1939 Chevy by Tamara Gooch
www.tamaragoochphoto.com
For their encouragement and support, my thanks go to John Taylor, Red Shuttleworth, Ernie & Karen Hopseker at
www.oceanbeachradio.com
, Doug 'Duke' Lang, Joe Ray Skrha, Charlie Hunter, Sarah Ovenden & the Roots On The Rails crew at
www.rootsontherails.com
, Deena Wolfe-Guerin,
Danny George Wilson
, Lloyd Coombs, Rod & Judy Wilson,
Dan Weber
, Bill Knoedelseder, Bill Lavery at
www.villagerecords.com
, Devon Flaherty, Adrienne Evans, Sharman Smith, Connie Cuff and Bill Montgomery at
www.stillwaterlanding.com
My thanks to all the musicians who played and sang on this album. Every one of you went beyond the call of duty. I am in awe of your extraordinary creativity.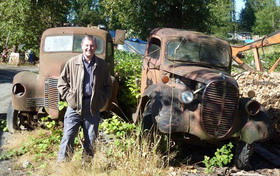 Thad Beckman
www.thadbeckman.com
Wes McGhee
www.wesmcghee.com
Dan Dugmore
www.dandugmore.com
Dave Batti
www.facebook.com/dave.batti.9
John Hoke
Andrew Combs
www.andrewcombs.net
Jeremy Fetzer
www.jeremy-fetzer.com
Spencer Cullum, Jr
www.facebook.com/burritospencer
Katy Fachorn & Rory Hancock
www.youtube.com/user/katyandrory
Butch Hancock
www.butchhancock.net
Ed Boggs
Paul Zarzyski
www.paulzarzyski.com
Finally, none of this would have been accomplished without the invaluable assistance of my friend
Tony Poole
, who once again recorded, engineered, mixed, mastered, produced and masterminded this entire project.