Quite literally where
Moby Grape
meets
Kaleidoscope
,
The Darrow Mosley Band
was a short-lived ensemble in which the family trees of those two extraordinary bands interlocked for a few short months in 1973.
Until recently, virtually nothing was known about the ephemeral musical alliance between
Bob Mosley
(bass player/vocalist in The Grape) and
Chris Darrow
(multi-instrumentalist/vocalist in Kaleidoscope).
However, when the indefatigable
Nigel Cross
discovered the existence of an unissued 3 song demo for Warner Bros, he was determined that not only should
Shagrat
, the world's most idiosyncratic record label, finally make this music available, in homage to two of his all-time favourite bands he would make it his most extravagant project thus far.
With spectacular psychedelic cover art by the legendary
John Hurford
, and complete with insert featuring sleeve notes by Chris Darrow, this EP is an absolute must for fans of Kaleidoscope and Moby Grape everywhere.
If manager and co-producer Michael O'Connor's vision of them as "a great American rock and roll band" was Gram and Keef, baked by the sun, sharing a peyote-sprinkled red hot burrito with Crazy Horse and Nicky Hopkins out on a sweltering dusty New Mexico bajada, "
Albuquerque Rainbow
" nails it perfectly. 
Topped off by Darrow's sublime impassioned vocals and fuelled by Mosley's pounding bass-line, Darrow and guitar-player Frank Reckard pull out searing back-to-back solos as the band roar relentlessly on with all the precision and drive of a gleaming 12 cylinder Peterbilt roadtrain tearing up the desert highway ...
(Colin Hill)
Read Colin Hill's full review here (opens in a new window ... scroll down page)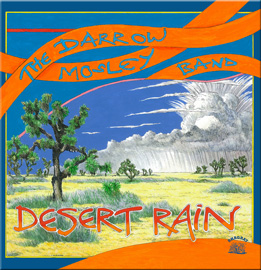 Destined to be a coveted collectors' item, this extremely Limited Edition 10" vinyl EP is now available here for £11 + Shipping
UK:£5, Europe:£7, USA:£9
PayPal
or
Credit\Debit Card
Select your location from the drop-down list
and Click the Buy Now Button